Kazoodles 2021 Holiday Gift Guide
Salutations Friends!
We know the holidays can be stressful, especially when you're trying to find the perfect gift for the littlest members of your family! To help ease your holiday fears, your friends at Kazoodles are here to offer some fun suggestions for this holiday season! 
This fun and (hopefully) inspirational guide will be categorized into three sections: New Holiday Hits, Classic Kazoodles Treasures, and Staff Picks! This guide will offer suggestions for both young and old! All the items mentioned are linked to their item page on our website! If a link doesn't work unfortunately that means we are out of that item at this time. 
Well, let's get started!
New Holiday Hits
To get this guide started, why not look at some exciting toys that are new to Kazoodles this year?
Itzy Ritzy is a 2021 new arrival for Kazoodles. We love all of Itzy Ritzy's toys and teethers, but if we had to choose one of their products to showcase, the Tropical Itzy Keys are our winner! Itzy Ritzy's teethers are made of lightweight BPA-free food-grade silicone, which is fancy language for a baby teether that is safe and fun! Each teether on the ring has a unique texture and feature (the leaf key even has water in it which can help cool and soothe your baby's gums!). These teethers are safe for any baby aged 3 months and up!
Manhattan Toy has been a tried and true friend of Kazoodles for years. So when we got these cute little chickens in we knew they would be a hit. Beautifully painted and decorated with sing-songy xylophone bars this chicken is a wonderful musical companion. Don't just take it from us, p
arent editors named it the 
Best Musical Toy
 Best of Toy Fair! This chicken carries tons of musical instruments including a
 cymbal, a 5-bar xylophone, a maraca tail, and two clacking wings that double as drums! This chicken is safe and fun for any kids aged 1 and up!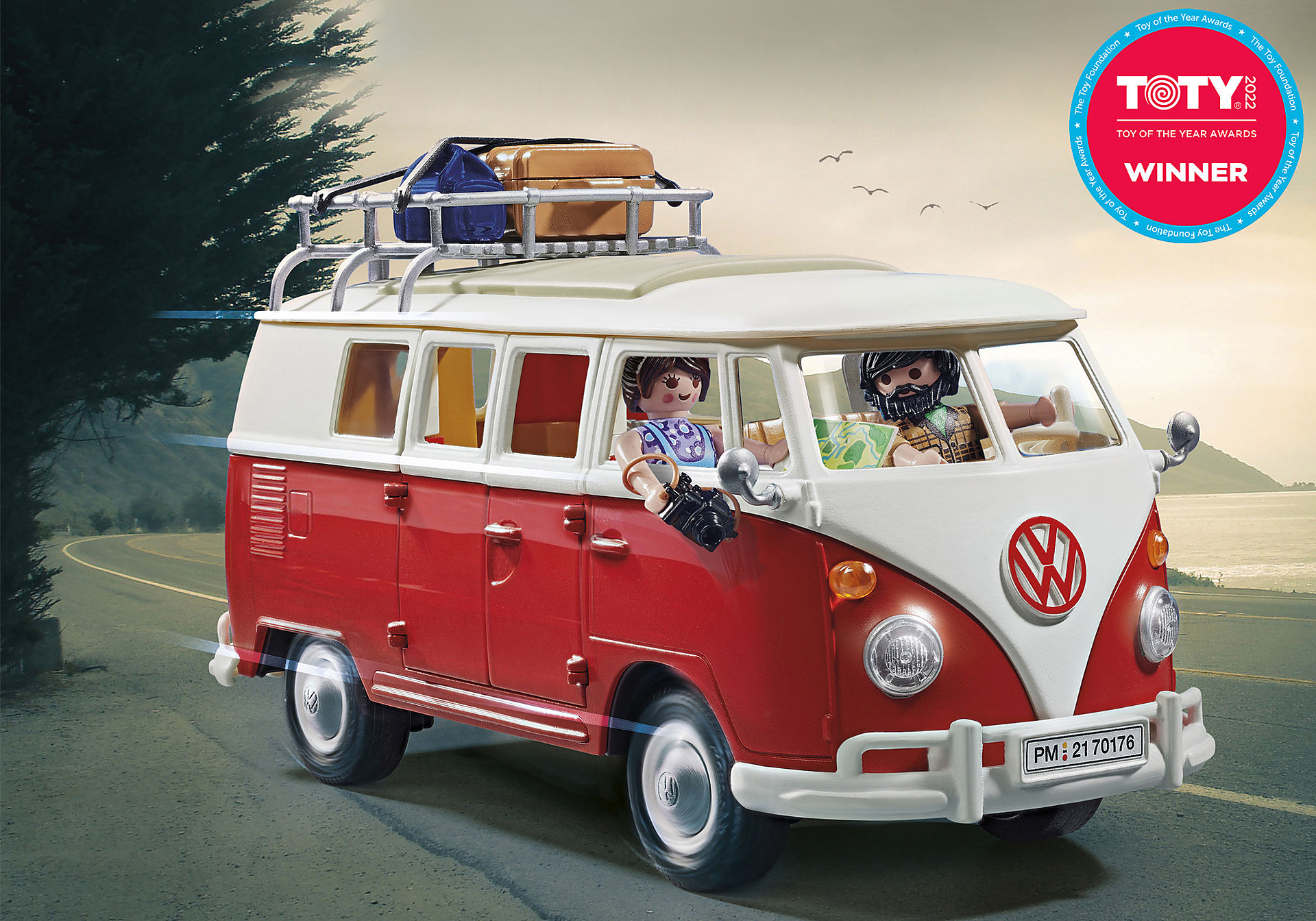 We at Kazoodles LOVE Playmobil and this Volkswagen Bus is sure to be a hit this holiday season! Covered from windshield to tires in detail, this bus is great for playtime. This bus features tons of fun accessories including two little Playmobil people ready for some camping! The bus is fully articulated with doors that open and close, folding benches and tables, and a detachable roof! This groovy little bus is perfect for any kid aged 5 and up! 
These Rainbows are Float-tastic! Whether your kid is chilling out reading a book or looking for a cozy place to do some homework, floor floaties are tons of fun! With winter on the horizon, curling up on a fuzzy rainbow with a blanket is a great way to stay warm! These Floaties also have grips on the bottom (for safety) and each one comes with a pump! As an added bonus the rainbow cover can be removed and washed. Not a huge fan of rainbows? We totally get it! We also have Floor Floaties shaped like 
Pizzas
, 
Cheeseburgers
, 
Donuts
, and 
Cupcakes
! These Floaties can also hold up to 200 pounds and are safe for kids 3 and up!  
Thames & Kosmos is one of our favorite science toy companies! The kits they make are fun, educational, and high-quality. This 117 piece kit is a great first step into mechanical engineering! Geared towards kids aged 5-7 this kit offers kids the chance to build real working robots! One of our favorite features is the guided storybook! This robotics set contains a guided storybook that kids can follow to learn how to build 8 different robots. So not only will they get to build cool robots, but they can follow along with a story as well! Great for getting your kids excited about math and science, these funky robots are sure to be a hit this holiday season! 
This paint by number kit is seriously cool. Not only is it watercolor (something that is rare to see in paint by number kits), but it's also on a canvas! We love that the artwork is on a canvas because it's perfect for hanging up after you're done! Faber-Castell is a high-quality art supply company. They make art supplies that range from kids' colored pencils all the way up to artist grade pastels. As a brand that makes professional-quality supplies, you can be sure the watercolor provided in this kit is highly pigmented and beautiful when dry.  Watercolor is a t
ranslucent
medium, so how do you cover the numbers on the canvas? Well, Faber-Castell thought of that and provided a separate printed guide! So painting by number (or painting your own colors) is easy and fun! Faber-Castell recommends this kit for ages 13 and up. However, we're sure with parent supervision, some younger kids could get in on the painting fun as well!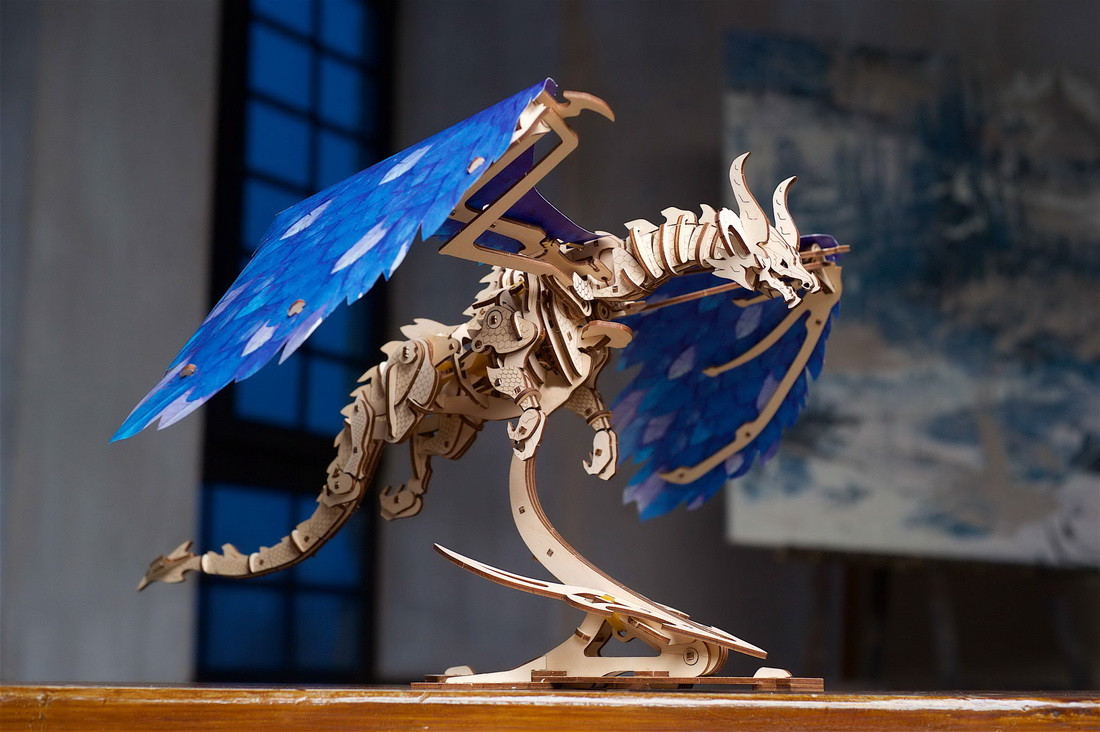 This. Dragon. Is. Epic. Ugears is a wonderful company and they knocked it out of the park with this beast! The Windstorm Dragon is one of the newest UGears sets which debuted in 2021. Ugear sets (for those of you who are unfamiliar) are 3D wooden model kits. These sets are intricate, beautiful, and always functional when completed. Ugear sets always involve the final model moving, may it be wheels turning, handles cranking, or in this Dragon's case: wings that flap and a neck that moves up at down. This dragon is one of the more kinetic kits with a built-in wind-up key that, when wound, will cause this dragon to come to life! We love Ugears because they are hours of activity that end with a truly stunning final product. This kit takes approximately 6 hours to complete (or less with help from a friend, sibling, or parent) so it's perfect for kids that desire a longer-term project. Perfect for anyone looking for something complex and engaging, this kit is a great next buy. This fantastical beast is recommended for anyone aged 14 and up!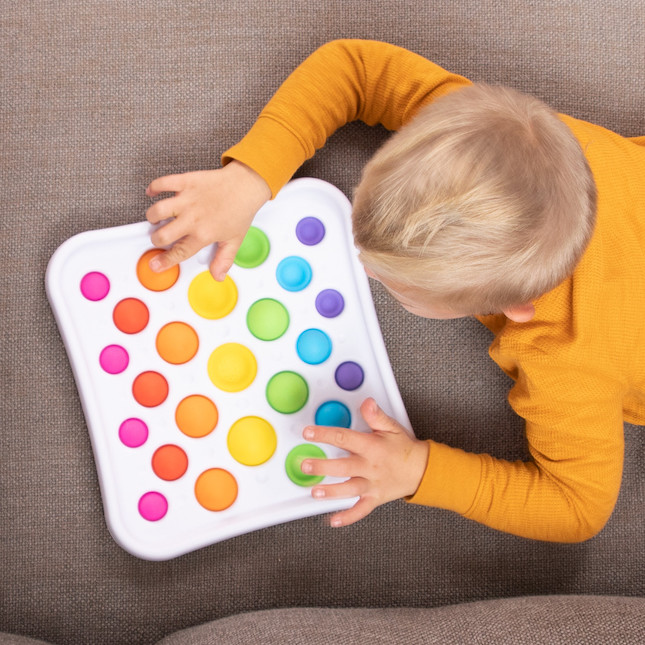 Okay, okay, we know: pop fidgets are everywhere right now, and of course we're sure your kid has been or currently is obsessed with fidgets. However, we would be remiss if we didn't recommend this particular fidget. Fat Brain is one of Kazoodles' FAVORITE brands! Famous for creating Dimpls, Fat Brain Toys makes high-quality, engaging, and super fun toys. What makes these Dimpl Pops stand out is the safe BPA-free plastic and food-grade silicone. The durable plastic case makes this toy last. No worries about tears or rips, these Dimpls are ready to stand the test of time. 
This fidget is also great for neurodivergent people! Quiet and engaging, this is perfect for kids who need a tactile experience while studying, learning, or just hanging out! 
We love Dimpls at Kazoodles. So much so that most of the staff have the original
Simpl Dimpls
on our keychains! We also understand that 26 dollars can be a lot for a fidget, so we also carry the regular
Dimpl Pop
which runs about 16 dollars instead! These Dimpls are safe and fun for any kid (or adult, we don't judge) ages 3 and up! 
Kazoodles Classics
When talking about classic Kazoodle toys, these eggs are the quintessential example. If you've been in our store looking for a gift for a baby, we've probably recommended this toy. These eggs have been a staple for years at Kazoodles, and for good reason! Not only are these eggs extremely fun for little kids, but they carry a lot of educational and developmental function! Firstly, each egg has 2 faces- one on the shell and one on the egg itself, which is a perfect first step into learning emotions and recognizing faces! Along with that, each egg is a different color which is great for learning colors! Also, the eggshells come off and on which helps with fine motor skills, a highly important but often looked over skill. Compact and easy to take on the go, these eggs are truly a budget friendly, but highly-engaging, toy! These eggs and perfect for any kid aged 1 and up!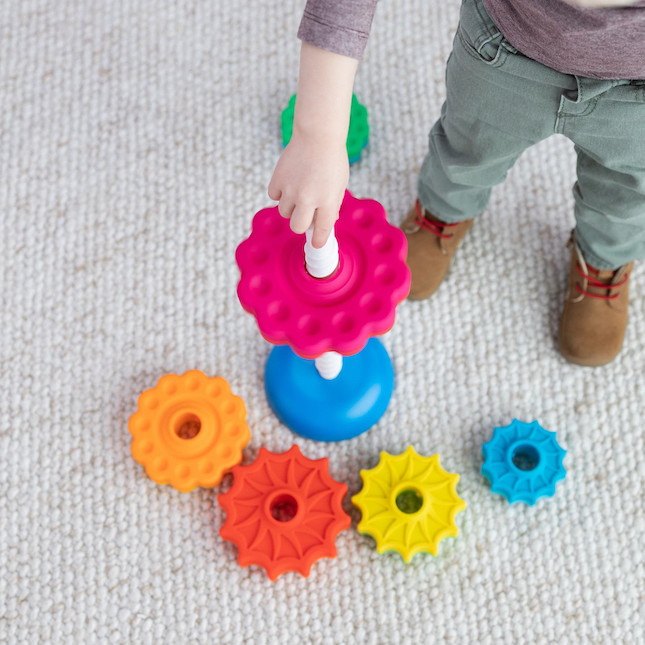 Like we said when talking about Dimpl Pops in the new arrival section, we love Fat Brain Toys. The SpinAgain was a toy that we at Kazoodles instantly fell in love with. We've had this toy on display and on demo tables for years. We adore this simple but super charming toy. While being a play on a common stacking toy, the thing that sets the SpinAgain apart from the rest is its spinning, whirling, and turning gears. The center pole of this toy has a spiraled thread that makes the gears spin down into place. This simple spinning mechanic is very fun and even entertains adults (and staff) when on display in-store. Along with that, the soft-touch BPA-free plastic is wonderful to hold and interact with. Safe and engaging this toy is perfect for kids aged 1-3 years old!
Nothing feels more like a classic toy than a marble run. We adore House of Marbles' marble runs. Totally affordable and expandable these sets are great for little builders who love racing marbles. These sturdy plastic tubes pop into and out of place with ease, perfect for younger kids who may not be too strong but want to build tall exciting marble runs. This 50 piece set also comes with its own marbles. Not to worry, however, if you happen to lose them these marble runs are compatible with any normal-sized marble! Believe it or not, simple building kits like marble runs are great introductions to STEM. Kids will learn about physics, gravity, and cause and effect, and problem-solving just by building! A great part about these sets is that they come in two other sizes: A
30 piece set
($22.99), and a
70 piece set
($42.99). So if you're looking to buy a marble run for two kids or want to start small and build up, the 70 piece or 30 piece sets might be a better fit. All three of the set options (30, 50, or 70) are fully compatible so you can always add more pieces! These marble runs are great for any kiddos 3 years old and older!
Stomp Rockets have been synonymous with Kazoodles for a LONG time. Fun and durable these rockets are perfect for outside fun. These duel stomp rockets are great for siblings, coming with two pumps for spontaneous play. Whether it's a competition to launch the highest rocket or they are pretend pilots preparing for take-off, these rockets are a perfect toy. This kit comes with everything you need to launch! Stomp Rockets are 100% kid-powered with no need for batteries! We are also happy to sell many different variations and accessories to stomp rockets. We have
solo stomp rocket kits
with only one pump, a
junior version
for younger kids, stomp race cars (
dueling
and
single
), stomp
stunt planes
, and
packs of additional rockets
! With stomp rockets, you really can't go wrong! This dueling kit is perfect for any kid ages 6 and up!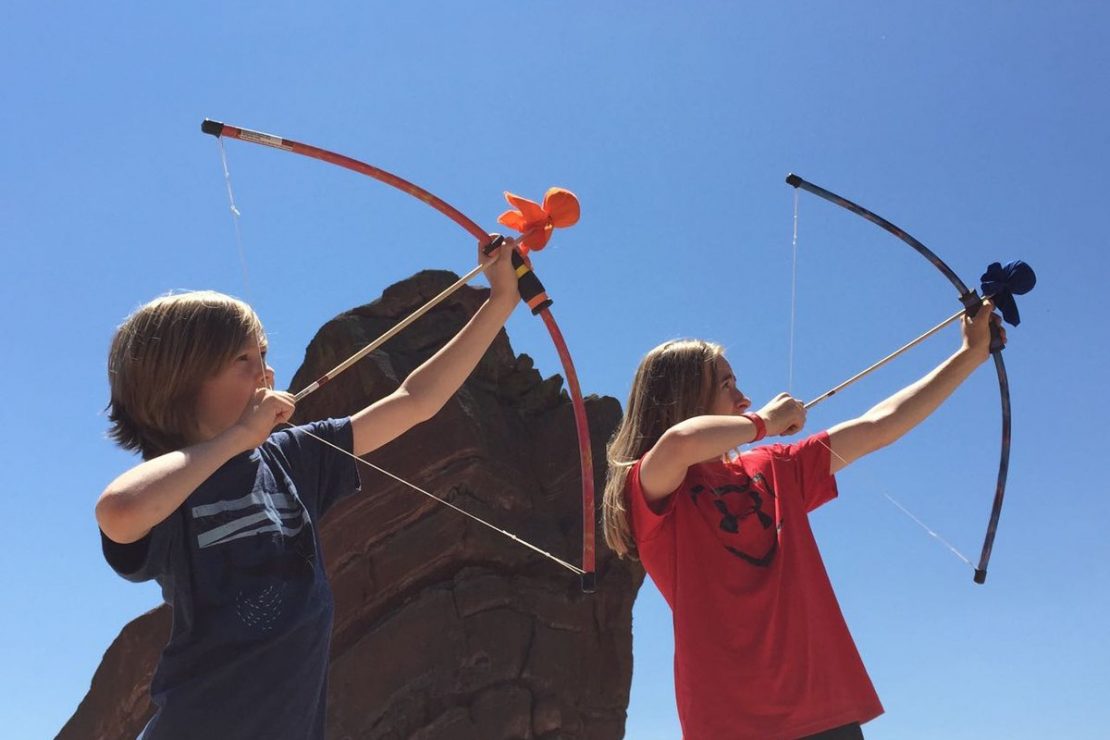 Two Bros Bows and Arrows are toys that come with a great story. We at Kazoodles love that the company and bows were made by two young brothers (pictured above). Hayden and Duncan were 7 and 10 respectfully when they designed, built, and sold their first bow and arrow sets. Designed by kids, for kids, these bows are arrows are safe and entertaining. The bows are easy to pull back for younger kids and offer a padded arrow safe for shooting in the backyard or at a park. These bows come in a variety of different colors and styles perfect for any kid regardless of gender. Each bow at Kazoodles comes with one arrow but we offer additional
arrows
 you can buy as well! These bows are safe for any kid aged 6 and up!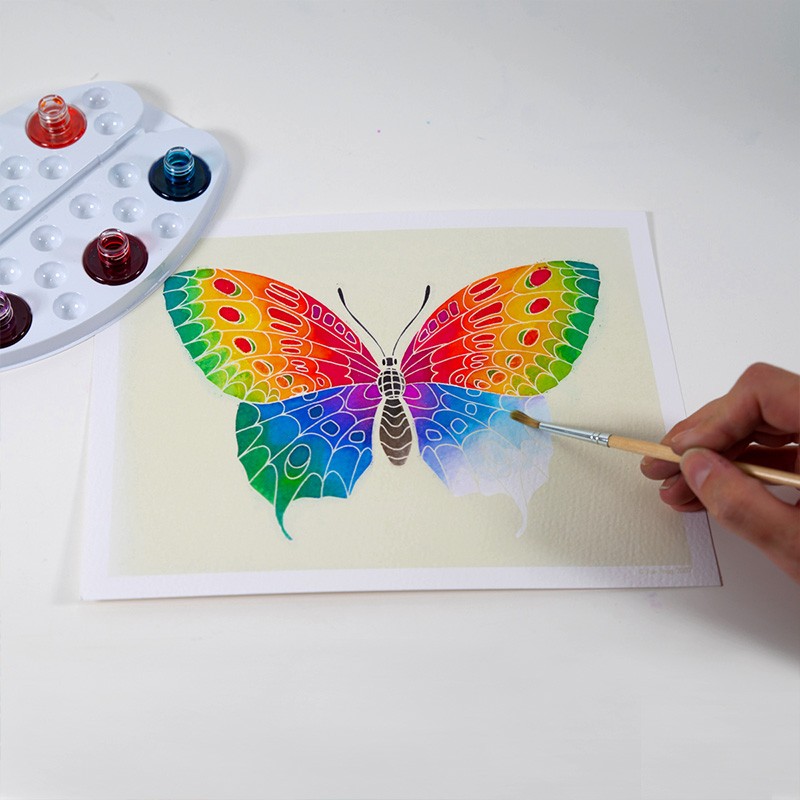 Aquarellum kits are super unique painting kits. The coolest thing about these kits is they're waxed paper. The paper sheets in this kit are coated with a wax that makes it so the watercolor cannot blur the lines! How cool is that? That makes the painting a frustration-free activity that allows kids to focus on mixing and painting new colors on beautiful butterfly-themed designs. The watercolor itself is very smooth and allows for even and vibrant color application. Also, the paper itself is very thick and doesn't warp, bend, or wrinkle when watercolor is painted on it. We don't just have butterfly kits, we have a ton of different Aquarellum kits in both junior and regular kits. The regular kits are geared towards ages 8 and up, but this junior kit is great for any kid aged 5 and up!

Now, for this entry, it feels impossible to choose ONE name train. The whole point is to spell a name! So why not recommend every train of the alphabet! Name trains are (as the name implies) train cars that are each a different letter of the alphabet that you can use to spell a name. We love name trains for  many reasons, but above all, we love the customization of the cars. Names are so personal, so getting train cars that spell out your name means a lot. Along with that, they fit on standard wooden train tracks which means any kid with a wooden train set can use these as well. These trains are perfect as toys or decorations. As a cherry on the cake, these wooden trains are made in Vermont! These little train cars are safe for any kid aged 3 and up! 
Staff Picks 2021
Here are some favorites from your friends at Kazoodles! 
1. Charis's Favorite: Catan ($54.99)
Catan (also named Settlers of Catan) is a super cool and highly strategic game. Players build settlements, cities, and roads with materials they collect by settling next to land spaces. Players can trade, barter, and sabotage other players. Will you keep the peace and bond with other players? Or become a solo conqueror? Catan is quickly becoming a board game staple in households everywhere. This game guarantees hours of gameplay offered in one box, but Catan doesn't stop there. With a myriad of expansions for more players and different play types, the base game is just the beginning. This strategic game of collecting and trading is suitable for any player aged 10 and up!
These skateboards are new and totally rad! Available in tons of different designs, these skateboards are sick and safe! These boards were designed to be a great introduction to skating. Great for kids hoping to get into skateboarding, these boards are well built and ready to roll. Oh! And don't worry! We also carry
helmets
(you know, for safety).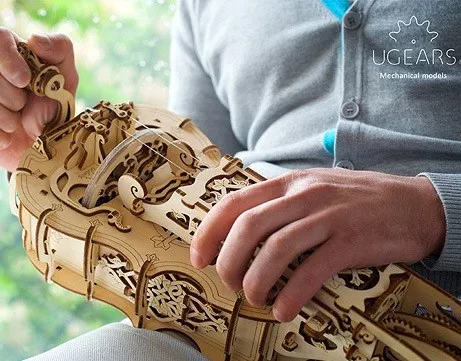 Ugears is on this list twice for good reason, all of their kits are super cool! So... what's a Hurdy Gurdy? Well, a Hurdy-Gurdy is a stringed instrument that when played sounds like a bagpipe. Super cool and super weird, this instrument is an auditory journey. This Hurdy Gurdy is not only a fun kit to put together but it's ACTUALLY functional when complete! All of Ugears' kits have some functionality, but with this kit, you get to build a working instrument. Another fun bonus in the kit is a hammer you build before you get started, so all the "tools" are included in the box! Ugears also have videos on their Youtube on how to tune and play this completed project. This kit is perfect for any kid (or music-loving adult) aged 14 and up!
This craft kit combines two great things--personality quizzes and friendship bracelets! Each quiz answer corresponds to a bead, charm, or color that you then use to create your personalized bracelet! Perfect for slumber parties, after-school hangouts, or family bonding these bracelets are all about you! Not only can kids make fun bracelets, but they then have a personal bracelet made for them by them. These totally unique bracelets are craft-tastic for any kid aged 8 and up!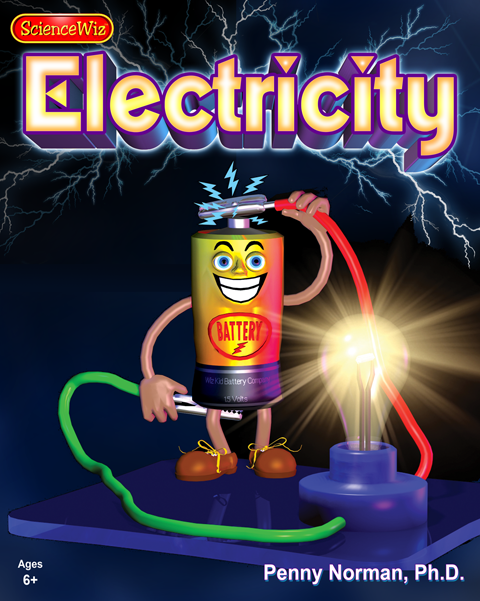 ScienceWiz is a great company with TONS of STEM-based science kits! Created and written by Dr. Penny Norman, these kits come with a book of experiments and all the tools needed to do them! Perfect for any kid looking to dive into the world of science, these kits are educational and entertaining. ScienceWiz kits are even used in schools! These kits have also won a huge amount of awards! This particular kit has won 6 awards including Scientific American's Young Reader's Book Award. Not interested in electricity? We totally got you covered. We have a wide assortment of these
kits ranging from Chemistry to Physics, to Cells and Magnetism, and much more
! This particular kit is appropriate for any kid 6 and up!
This drawing book is not only educational but super diverting. This book covers a ton of topics all centered around learning to draw faces! One of the coolest things about this book is it's authored and illustrated by Kevin Hawkes. Kevin Hawkes is a New York Times Best Selling children's book illustrator best known for his work in the book Library Lion. Nothing makes more sense than a children's book illustrator teaching kids how to draw! This book is more on the advanced side, but Eeboo also offers
easier
books
for younger kids! Learn To Draw People is a book perfect for any inspiring artists aged 7 and up!
Gamewright makes tons of classic card games, but none of them can hold a candle to Sushi Go! Sushi Go! is a fast-paced card game perfect for any game night. Players pick and pass a deck of sushi cards to create tasty combos. Each sushi combo equals a different amount of points and some sushi cards can be point modifies to boost your feast's score! The player with the most points at the end wins! The game itself is small and compact which makes it perfect to take on the go. The gameplay is quick and each game only lasts around 15 minutes, so there isn't a huge time obligation to play. This savory card game is perfect for any player aged 8 and up! 
8. Leah's Favorite: Octacog ($39.99)
Last but not least we have the Octacog! Octacog is a game and a toy all in one! This awarding winning STEM kit is full of gravitational fun! Players take turns adding or subtracting pieces hoping to keep the cog balanced! Think of it like science-based Jenga! Kids can also play by themselves and learn about scientific cause and effect. Octacog also has room to grow with the additional
expansion set
! This fun STEM game is great for any kid aged 7 and up!
Well! That'll about do it!
We here at Kazoodles would like to take a moment to say we appreciate you. We know these last couple of years have been challenging. We can't express enough how much it means to us that you have continued to support us despite it all. We wouldn't be here without you and we'll always be grateful that you choose us when you're shopping for Toys, Books, Games, and More. Whether this is your first time shopping with us, or you've been here for years, we love you.
We hope you have a Happy Holiday Season!